Your students just aren't grasping the concept of patterns, and you don't know what to do – I've been there! They just need a TON of practice, incorporating patterns in the kindergarten classroom every day.
Through explicit instruction, and practice, or working them into your day organically, below are some ideas to do so.
What Patterns do I teach?
AB, ABB, AAB, ABC, AABB, and ABCD patterns.
Where do I start?
Start with AB patterns in kindergarten! They are the easiest to grasp, and most common to find in the world around them.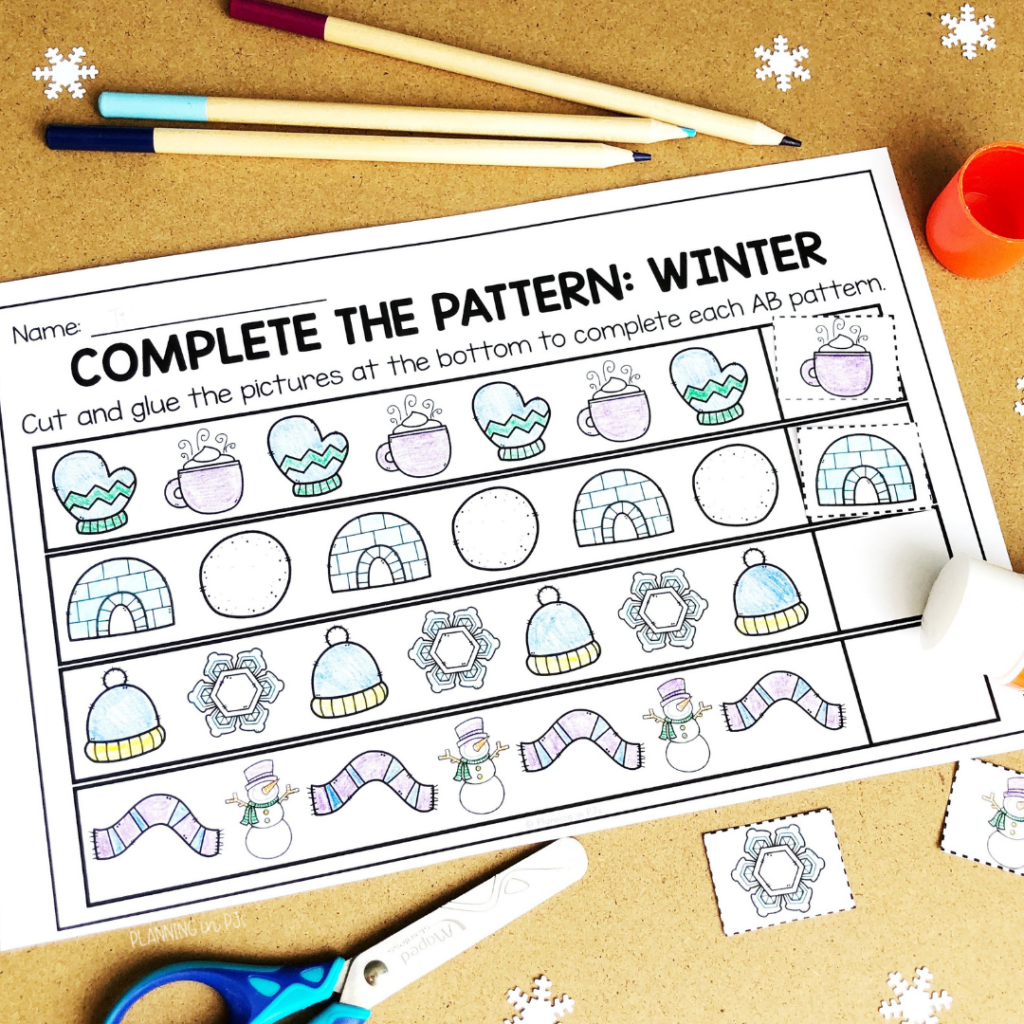 How do I explain what a pattern is?
A pattern is a set of something that is repeated over and over again. Patterns can be letters, numbers, shapes, colors, and objects. Give your students real-world examples they are already familiar with, such as stripes on a shirt (wear one if you can!).
What are some activities I can do to practice patterns?
Patterns In Classroom Life
The best time to practice patterns in kindergarten naturally is during transitions – lining up, waiting for an activity, etc. You can do this in the way students line up (hair color pattern, boy/girl) or with activities while you wait. You can clap a pattern and have students copy it, or finish a pattern verbally (for example, ask "what comes next? Red, blue, green. Red, blue, ___.")
Patterns in Kindergarten Calendar Time
I always practice patterns during calendar time! The calendar cards I use have different image patterns each month based on the theme. Each day we review the pattern on the calendar, and I ask my students what comes next.
Whole Group Games for Patterns in Kindergarten
Games are a fun and engaging way to practice patterns! You can also quickly ask students questions related to patterns during your morning meeting.
Some ideas are:
Finding patterns on clothing
Putting students in order by a pattern (hair color, shirt color, body parts – hand/foot/hand/foot)
Take off shoes and put them in a pattern by color or type (laces/velcro)
Bring items and make patterns with partners (snap cubes, markers, crayons, blocks, Legos, toys)
Accessory patterns – shoe/hat/mitten, shoe/hat/mitten
Clapping games – repeat the pattern, finish the pattern
Activity games – repeat or finish the pattern with movement (ex. hop/hop/sit)
Stop and Go movement pattern (if you have the space!) – walk/stop/stop, walk/stop/stop
Pattern Centers or Morning Tubs
Ideas for pattern centers:
Creating patterns with larger or smaller manipulatives – directly on the table or floor, or using pattern mats (grab a Pattern Mat as a freebie – in English and French – at the end of this post!)
Art using Patterns
Have your students create pieces of art with patterns! They can do this with a variety of materials or art supplies. You can have students glue scrap pieces to create patterns, stamp patterns using a variety of items, create texture patterns, and more!
Technology for Pattern Practice
Online Pattern Games
Boom Cards
These have been some of my favourite Boom Cards™ to create! I have sets for the entire year – you can find them all in a bundle here.
Hope you've found these ideas helpful!
Grab these patterns work mats for FREE!
Want to pin this to save and read later?